In Lucca you will have no fear about what to do, certain buildings will immediately attract your attention because of the exclusive and beautiful design.
Let's start exploring this city from the city center and the beautiful Duomo Di Lucca.
The facade is stunning and this is one of the meeting points of the city.
Piazza dell'Anfiteatro is one of the main squares of Lucca and there you can find the Roman amphitheater. Once in the square, you can visit the cathedral of San Martino.
Inside the church is the sarcophagus of Ilaria del Carretto, a masterpiece by Jacopo Della Quercia and the Last Supper by Tintoretto.
My favorite church in town is the Church of San Michele in Foro, i love the shape of the church and i think i have never seen one like this one in my life.
The top is so thin and it stands from the crowd.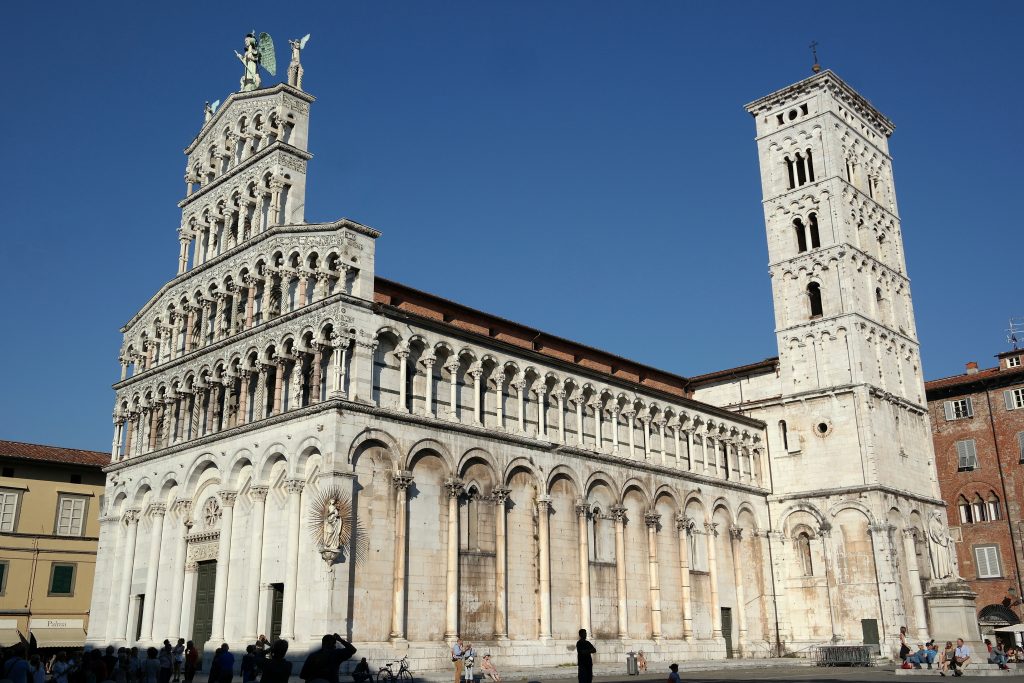 The biggest square however is Piazza Napoleone and you don't miss a visit to Palazzo Mansi.
In this incredible building, you can admire the largest collection of paintings in the city, including works by Tintoretto, Beccafumi, Pontormo, etc…
Once upon a time, there were over 200 towers in Lucca, today you can visit two of them, Torre Delle ore and Torre Giunigi.
Some buildings and monuments worth to visit:
Chiesa di San Michele in Foro
Basilica di San Frediano
Basilica dei Santi Paolino e Donato
Chiesa dei Santi Giovanni e Reparata
Chiesa di San Giusto
Piazza dell'Arancio
Piazza del Giglio
Piazza Guidiccioni
Palazzo Pfanner
Palazzo Mansi
Palazzo Massoni
Museo del Fumetto
Museo del Risorgimento
Under the walls of Lucca, there is a network of tunnels and streets that you can visit and it's called Lucca underground.
The Lucca underground tour is going to be awesome, like many other medieval cities you can discover the underground medieval town as well.
Not far from the city center, don't miss a walk along the ancient Nottolini aqueduct, a place to relax and discover a bike.
The water flows on a stone pavement in the San Quirico river, immersed in the green of the surrounding woods.
Food in Lucca is great like any other place in Italy of course. Definitely fish is not the most popular food from Lucca but all the traditional peasant food such as spelled and pasta are popular.
One of the most popular dishes from Lucca is the Tordelli Lucchesi (Written with the D and not Tortelli)!
These Tordelli are filled with a lot of different ingredients such as beef and pork, mortadella, chard, pecorino, parmesan, celery, garlic, breadcrumbs, nutmeg, pepper, basil.
Some other typical dishes are the spelled soup and the Frantoiana soup, this is a very poor dish full of protein and taste.
La Garmugia
Rovellina Alla Lucchese
Biroldo
Pane Di Patate
Buccellato
La Farina Di Castagne E I Necci
Pane di Patate is bread made with potatoes and is a must-try, also the desserts are interesting. They are using chestnuts flour to create certain desserts and it tastes awesome.
If you are in Lucca you might want to try one of these dishes for sure.
Conclusions
Some people say that Lucca is the most beautiful town in Tuscany, I am serious!! I like this article written in Italian about Lucca.
The medieval atmosphere is everywhere, and the city is pretty easy to visit thanks to the 4km path around of the city.
There are over 100 churches and plenty of squares, museum and little places to stop and eat awesome food for cheap.
The area around Lucca is pretty nice as well, in fact, it is only a few minutes away by car from Pisa and Viareggio.
It would be stupid to visit Pisa without Lucca.
Also, Montecatini Terme is very close to Lucca and if you like thermal water give it a shot.
I hope that you will visit this city and that this little guide helped you decide if going to visit this city is a good idea.
If You Liked This Article And You Discovered A New Place Or Just Found Out A New Curiosity And Place That You Should Visit Make A Comment, Tweet This Or Share It.
I Hope That You Liked This Short Review Of Lucca, Feel Free To Share This Website. You Can Tweet Any Sentence Just By Highlight It.